A crucial component that helps healthcare providers deliver critical medical services to society is a well-oiled revenue cycle management (RCM) system.
To provide such valuable services seamlessly, healthcare providers need to be financially stable enough to survive an ever-changing healthcare policy and regulatory landscape. This is why operating a sound finances is so important; a good RCM system will help manage all the administrative and operational tasks in the background, allowing healthcare workers to ensure the delivery of quality medical services.
Therefore, while hospitals continue to focus on how to improve the healthcare they deliver, they must never ignore revenue -- the lifeblood that keeps everything running.
In this article, we will consider:
What is revenue cycle management in healthcare?
Steps involved in revenue cycle management
Ways to optimize healthcare revenue cycle management
At the end of this article, you will understand the importance of revenue cycle management in healthcare, as well as how to optimize your own processes for your hospital or clinic.
What is revenue cycle management in healthcare?
Healthcare revenue cycle management (RCM) is the process of managing all the administrative and operational finances of a healthcare firm. A good RCM system eases the complex data management process and makes sure accurate data has been stored for effective claim submission and claim denial prevention.
RCM in healthcare begins with the collection of data from a patient, at every stage from appointment scheduling to the delivery of the medical service. This data is then used to process billing and reimbursements from the insurer and the customer (in the case of copayment).
In essence, sound revenue cycle management systems ensure that healthcare providers can deliver their best without meeting any financial obstacles.
Steps involved in revenue cycle management
A fine-tuned revenue cycle management system turns your financial process into clockwork, allowing your team to smoothly tackle important finance-related tasks, including the identification, management, and collection of patient service revenue.
Below is an illustration of the 9 main steps of the entire revenue cycle management, as it would be used by a healthcare provider.
Let's recap these main steps below.
Charge acquisition: This is the administrative step where medical services are converted into billable charges.
Claim submission: Effectively submitted claims result in cost and time-saving. A claim denial has cost implications that can be avoided if the submission step is done cautiously and correctly.
Medical coding: Noting down all the diagnoses and procedures is essential. This aids in creating an accurate database for medical officials.
Patient collections: Recorded data of patients or a log helps in determining the balances and collecting of payments.
Preregistration: This step helps in collecting information such as insurance coverage, account establishment and medical history.
Registration: Receiving patient information during registration aids in building a medical record number and meeting various clinical and financial requirements.
Payment processing: The reimbursements and payments are applied through the remittance processing step.
Third-party follow-up: Following up with the third-party insurers to clear medical claims and effectively manage outsourcing.
Final review: Verifying the requirements of medical services and claims.
Challenges with managing the steps of RCM
While the revenue cycle management process may seem simple on paper, many problems can arise that may delay the receipt of revenue by healthcare providers.
Since revenue is the lifeblood of hospitals, problems in the revenue cycle, if not well managed, can result in huge financial obstacles that slow down growth and impact medical service quality.
Below are some of the most common problems healthcare providers face with revenue cycle management.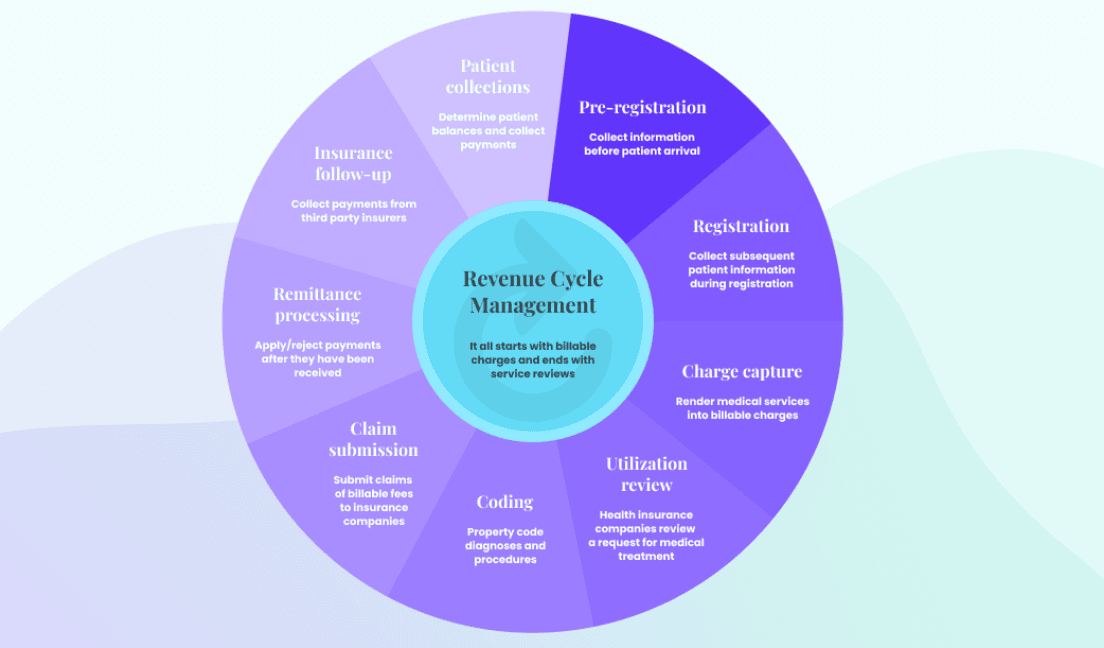 Simple hand-written errors
Since the entire revenue cycle management comprises various essential steps, even simple errors (misspelled names, wrong address numbers, etc.) may derail the process. The groundwork starts with the administrative phase -- patient registration and scheduling -- and here one needs to avoid the common errors usually created on manually written forms.
Why are errors at this stage so costly? If an error occurs at the beginning, the whole cycle has to be restarted even if it has already progressed to other stages.
Medical claim denials
In addition to simple errors, medical claim denials are a major problem for healthcare providers. Insurers can deny medical claims submitted by hospitals for various reasons, including missing data and time-frame expiry, among others.
When such denials occur, payments are delayed. Also, reworking a claim denial costs money, leading to a further reduction in the net revenue of the hospital. According to the American Hospital Association, 43% of hospitals spend more than $10,000 in a quarter to manage their claim denials.
In the UAE alone, 30% of new medical claims and 15% of resubmitted claims are rejected. In 2020, Azad Moopen, managing director of Aster DM Healthcare, a private healthcare conglomerate in the Middle East, said that the first-time rejection rate of medical claims by some insurers has spiked to 30% in the GCC region.
Delay in payment
According to Dr. Atul Aundhekar, CEO of Avivo Group, revenue cycle management is becoming more difficult as a result of late payments. "If these delays are not foreseen and anticipated in the cash flow assumptions, healthcare providers find it very difficult to manage their cash flows in a healthy manner."
Without receiving payment in a timely manner, healthcare providers will lack the cash flow to manage operations seamlessly and provide quality and timely medical services. Ideally, insurance companies should take 90 to 120 days to pay claims. However, due to the higher percentage of rejections, insurance companies can extend the payment cycle by more than six months.
Even 90 to 120 accounts receivable (AR) days are not healthy for healthcare firms. According to Medisund, good AR days should not exceed 35 days. Therefore, with AR days taking months, hospitals will continue to have cash flow problems.
Claim rejections and resubmission re-rejections are the most common causes of payment delays. Healthcare firms should, therefore, improve the accuracy of claims and follow the right approvals in their revenue cycle management system.
Ways to optimize healthcare revenue management
To avoid huge revenue loss and ensure a smooth flow of finances, healthcare providers must provide lasting solutions to the problems above by optimizing healthcare revenue cycle management.
Here are five ways to do that:
Invest in your staff and internet-based billing
Investing in your staff and an internet-based billing system are two of the most high-impact investments you can make.
When your employees are trained periodically, you set the right tone for their work, resulting in a workspace with clear guidelines and expectations. From data entry staff to payers, each and every employee should have detailed knowledge about the scope of the work and its implications on the broader business.
This helps in generating the right momentum and approach to work. When staff is well trained, they will be quick to prepare the medical claims of the patient.
Also, using the latest technologies like electronic health records (EHR) helps in streamlining and providing accurate data for effective revenue cycle management. These technologies can be leveraged to track the entire medical service lifecycle, collect payments, and spot reasons for denials. Consequently, they will help to build an effective revenue cycle management system.
Get a clear picture of your RCM through analytics
Data analytics can help in processing large chunks of data in a click. It helps the healthcare firms to structure the patient's data with high accuracy and visibility for better claim submission and denial prevention.
Also, the use of advanced business analytics will provide a comprehensive view of your revenue cycle. This data can be leveraged to spot and fix issues in the revenue cycle management system for better efficiency and revenue recognition.
Though these technologies can be a bit expensive, they can help the staff and management work out new ways to predict whether a medical claim will be accepted or rejected and rework the claim to ensure acceptance.
Regulating the revenue with timely-paying patients
Sometimes, healthcare organizations face financial crises because they fail to estimate the payment behaviors of their customers. One way to keep the cash flowing smoothly is to maintain a record of patients who pay their dues timely. This helps in clearing the headspace of the staff by collecting the revenue from the regular patients first.
Leveraging patients with a financially stable history can go a long way in maintaining RCM and trouble-free revenue generation. A well-trained staff can then predict the chances of payment failures and delays from patients in the future. Alternatively, you can use the right tools and technologies to uncover these timely-paying patients and save the man-hours that a manual process will require.
Keep your patients updated with the process
Transparency with the patients on healthcare billings has become a way to achieve accurate claim submission and improve the revenue cycle management.
In a bid to ensure cost transparency, patients now want to understand the entire process -- they want clear information from hospitals and clinics before taking up any medical services. The growing trend of consumerism has given them the control to quantify everything before making any decision.
The staff should be trained to provide patients with every detail upfront so that there will be no hidden clause that can surprise the patients. This transparency will also improve the hospital and patient relationship.
Prepare a regular checklist to ensure process implementation
Maintaining a daily process checklist can be a little intimidating, but it helps to minimize problems later on. A checklist should be used on a regular basis to ensure that everything runs well. This prevents a slew of issues from cropping up later.
Also, conduct regular audits to validate the accuracy and quality of the revenue cycle management process. Setting goals and actionable items based on the outcome of the audit will help make the process better and more efficient.
In addition to the five points mentioned above, you can also consider outsourcing your revenue cycle management. In fact, a report by Mckinsey and Co projects that in the coming years 40% of healthcare organisations will consider outsourcing their RCM to service providers.
In this scenario, outsourcing will greatly help in dealing with the common healthcare revenue cycle management issues like monitoring the medical billing process, scheduling patient appointments, and more.
Final thoughts
A 2020 report by the National Health Account (NHA) shows that UAE is leading other MENA countries in total health expenditure per capita, with more than 20% year-on-year growth since 2016.
On the one hand, these figures demonstrate that the healthcare sector is growing rapidly. On the other hand, healthcare providers must now deal with the large volumes of transactions that come with a growing healthcare sector while also working to keep their revenue cycle healthy and increasingly profitable.
Consequently, healthcare revenue cycle management solutions are expected to become even more popular. With that, the global revenue cycle management market is expected to grow to $114 billion by 2025. With such a high potential growth, it is no wonder that UAE healthcare firms need effective revenue cycle management now more than ever.
While better RCM will reduce denials and errors, accounts receivable days of 90 to 120 days will still lead to cash flow problems for healthcare providers.
To provide a lasting solution, Klaim purchases medical claims from healthcare providers and pays them cash within 7 days. Instead of waiting for months to collect cash from insurers, you can access the money within seven days by selling your claims to Klaim for a financing fee.
Key Takeaways
Revenue cycle management is the backbone of a healthcare organization. It is the process of managing all administrative and operational finances.
Investing in staff training and an internet-based system is important for revenue cycle management.
Consumerism creates the need for well-informed staff to provide all the information to the patients in advance.
Various technologies are already in the market to expedite the process of calculating finances.
A regular checklist may be cliche, but it is an effective way of measuring progress and avoiding future bottlenecks.